Library
The College Library established in 1995. Our library is kept open from 8.30 am to 7.00 pm without a break. A Book Bank has been opened for weaker section of students (SC&ST) for their utility. Bar Code Technology was introduced in 2010. Our library now functions in a full fledged manner and cater to the library needs of students and faculty members. Books and journals are easily accessible to both students and Research Scholars.
Objectives
The Primary objective of the library is to serve to the needs of our Faculty, Research scholars, students and members of the library. It acts as a center for study and research for the inmates of the college giving way to integral department of users. Being an autonomous college the Library attracts outside users on deposit and non-deposit basis for academic and professional purpose.
Library Policy
The library aims at being a Resource Centre, a social institution a force for educational excellence by providing and Non-book materials, to promote good values, genuine human relationships, social consciousness, leadership capacities, and academic excellence in research and in teaching.
Working Hours
Working Days - 8.30 am to 7.00 pm (Without Break)
Holidays - 9.30 am to 1.00 pm
Examination days - 9.30 am to 7.00 pm (Without Break)
Holdings
VICAS Library has 59,411 Volumes and 229 Journals and magazines. All the books are mostly classified to Dewey Decimal Classification. Bay guides are available to access the books easily and all the books are arranged properly with bar coding facility. The open access system is followed to make the process of locating books very easy to the users. The Library is fully automated and OPAC facility is provided.
Library Resources Details As on Date - 28.01.2016
DEPARTMENT
TEXT BOOKS
REF. BOOKS
TOTAL. BOOKS
NATIONAL JOURNALS
INT.  JOURNALS
MAZ
BOOK CD'S
RESEARCHCD'S
THESES
BACK VOLUME
TAMIL
10697
475
11172
12
-
-
-
34
178
177
ENGLISH
6380
506
6886
8
4
112
48
717
81
MATHEMATICS
3446
95
3541
11
2
2
8
45
842
97
PHYSICS
3017
86
3103
11
1
3
13
31
375
250
CHEMISTRY
2157
113
2270
9
1
1
13
27
336
148
BOTANY
824
57
918
24
3
4
175
1
1011
843
ZOOLOGY
529
46
575
13
BIOTECHNOLOGY
1891
373
2264
20
MICROBIOLOGY
1402
299
1701
15
BIOINFORMATICS
141
59
200
-
BIOCHEMISTRY
831
139
970
4
NUTRITION
365
56
421
-
-
-
-
-
-
-
TEXTILE
304
5
309
-
-
-
-
-
-
-
COMMERCE
6722
204
6926
40
7
5
179
56
524
399
COMPUTER SCIENCE/ MCA
9530
382
9912
14
13
6
834
114
451
410
HINDI
806
1
807
-
-
-
20
-
-
-
MALAYALAM
-
-
768
-
-
-
-
-
-
-
MBA
4233
125
4358
16
2
2
86
-
224
124
XEROX COPIES
-
-
213
-
-
-
-
-
-
-
BOOK BANK
-
-
1056
-
-
-
-
-
-
-
GK(IAS-265,S-87,OB-192, GK497)
596
455
1041
-
-
-
-
-
-
-
GENERAL
-
-
-
-
-
28
48
-
-
-
TOTAL BOOKS
53597
3476
59411
145
33
51
1488
408
4658
2529
Periodicals
We have subscribed 226 current periodicals and almost a majority of Journals are Peer reviewed and having a high impact factor number.
Inter National Journals

International Journal of Pure& Applied Chemistry
International Journal of Management and Human Resources
International Journal of Finance Markets
The Global Journal of Finance and Economics
International Journal of Accounting and Finance
International Journal of Data Mining and Emerging Technologies
International Journal of Computer Engineering
International Journal of Marketing and Finance
International Journal of Business Policy and Economics
International Journal of Marketing and Trade Policy
International Journal of Advances in Software Engineering
International Jouranal of Bioinformatics and Soft Computing (Ijbsc)
International Jouranal of Computational Intelligence and Healthcare Informatics (Cihci)
International Journal of Fundamental and Numerical Mathematical Sciences
International Review of Pure and Applied Mathematics
International Journal of Physics
International Journal of Mind, Brain & Cognition
International Journal of Translation
Int.Jnl.of Cross Culture Management
Int.Jnl.of Rural Management
International Journal of Communication
International Journal of Computational Linguistics
International Journal of Industrial Biotechnology

Magazine

Harvard Business Review
Banking Finance
Business Today
Linux for you
Facts for you
Tamil Computer
Digit Magazine
Electronics Bazaar
Physics for you
Chemistry Today
Puthiya Thalaimurai
Puthiya Thalaimurai Kalvi
Woman's Era
Employment News
Mathematics Today
Biology Today
Bionature
Noolagam Pesukirathu
India Today (Tamil)
Tell me why
Wisdom
Yoga
General Knowledge today
Isha Kaattupoo
Thannambikkai
Pavaiyar Malar
Lemuria Publications
Senthamil Idal
Vaikarai
Tamilarasu(English)
Tamilarasu(Tamil)
Sri Ramakrishna Vijayam
The Vedantha Kesari
Bhagavath Tharisanam
Theli Tamil
Sri Kaalimurasu
Amudha Surabi
Uyirmai
Kalachuvadu
Grishobha
Champak

Malayalam Magazines

Maathrubhumi Week
Vanitha
Grihalakshmi
Arogyamasika
Manorama
Mangalam
Kanyaka

National Journal

Journal of Chemical Sciences
Indian Journal of Chemistry Section - A
Indian Journal of Chemistry Section - B
Indian Journal of Chemical Technology
Indian Journal of Biochemistry & Biophysics
Indian Journal of Natural Products and Resources
ISST Journal of Applied Chemistry
Journal of Chemistry and Chemical Sciences
The Journal of Crystallization Physics and Chemistry
Journal of Intellectual Property Rights
The Journal of Accounting & Finance
Indian Journal of Marketing
Indian Journal of Finance
Prabandhan : Indian Journal of Management
Arthshastra : Indian Journal of Economics & Research
Smart Journal of Business Management
Journal of Banking, Information Technology and Management
South Asian Journal of Socio- Political Studies
Advances in Indian Retail Market
Indian Journal of Business Administration & Management
Indian Journal of Consumer Policy
Indian Journal of Entreprenership Development
Indian Journal of Marketing Research & Marketing Technology
Indian Journal of Retail Management
Indian Journal of Traditional Knowledge
Gitam Journal of Management
VIKALPA
IIMS Journal of Management Science
Asian Journal of Research in Banking and Finance
Journal of Commerce and Management Thought
Indian Journal of Financial Services Management
Indian Journal of Knowledge Management in Tourism and Hospitality
Indian Journal Human Resource Development and Management
Global Journal of Retail Management
Journal of Human Resource Development and Management
Bank Management
Knowledge Management
Brand Management
Jindal Journal of Business Research
Indian Journal of Marketing
Journal on Computer Science
Indian Journal of Information Sciences and Services
Indian Journal of Science & Technology
Indian Journal of Networking & Modern Technique
Indian Journal of Cybermetics & Hybrid Computing
Indian Journal of Embedded and Microprocessor
Indian Journal of Modern Grid Computing
Indian Journal of Neural Networks and Techniques
Indian Journal of Wireless and Mobile Communications
Journal of Asian Business Management
Journal of Financial Management
Indian Journal of Computer Science in Higher Education
Indian Review of Data Mining & Warehouse
Indian Journal of Optimization Techniques
Journal of Wireless Communication and Simulation
Journal of Cloud Computing
Indian Journal of Applied Linguistics
Language Forum
Creative Forum
Literary Miscellany
Journal of Advanced Linguistic Studies
Literaria
Indian Literature
Dialogue: A Journal of Devoted to Literary Appreciation
University News
Annals of Library & Information Studies
CUCOLIS
Annals of Library & Information Studies
ISST Journal of Advances in Librarianship
SALIS Journal of Information Management and Technology
Current Sciences
Resonance - Journal of Science Education
Journal of Biosciences
Journal of Genetics
Medical & Aromatic Plants Abstracts
Indian Journal of Biotechnology
Indian Journal of Human Genetics
Journal of Postgraduate Medicine
Indian Journal of Medical Microbiology
Indian Journal of Microbiology
Journal of Ecobiology
Journal of Ecotoxicology & Environmental Monitoring
Pestology
The Scitech Journal
Down to Earth
Bio Science Research Bulletin
LS: International Journal of Life Sciences
Advances in Life Sciences
Indian Journal of Entomology
Ecology Environment and Conservation
Asian Journal of Microbiology, Biotechnoogy & Environmental Science
Journal of Environmental Biology
Indian Journal of Applied Biotechnology and Biochemistry
The Uttar Pradesh Zoological Society
Proceedings (Mathematical Sciences)
Sadhana (Engineering Sciences)
ISST Journalof Mathematics & Computing System
Journal of Computer and Mathematical Sciences
Bulletin of Culcutta Mathematical Society
Indian Journal of Algebra
Indian Journal of Difference Equations
Indian Journal of Statistics and Analysis
Indian Journal of Theoretical and Applied Mathematical Sciences
Pacific-Asian Journal of Mathematics
The Journal of Management Outlook
The Indian Journal of Management
The Indian Journal of Research
Asian Journal of Management Cases
Global Business Review
Journal of Emerging Market Finance
Journal of Entrepreneurship
Journal of Human Values
IIM Kozhikode Society & Management Review
Management and Labour Studies
Review of Market Integration
Bulletin of The Allahabad Mathematical Society
Indian Journal of Mathematical Society
Siddhant – A Journal of Decision Making
Sumedha Journal of Management
LBS Journal of Management & Research
Training & Development Journal
JIMS8M: The Journal of Indian Management & Strategy
Bulletin of Material Science
Journal of Astrophysics and Astronomy
Journal of Earth System Science
Pramana - Journal of Physics
Indian Journal of Pure & Applied Physics
Indian Journal of Radio & Space Physics
Isst Journal of Applied Physics
Journal of Pure Applied and Industrial Physics
Wide Spectrum
Oriental Journal of Physics
Dailies
| | | |
| --- | --- | --- |
| TAMIL | ENGLISH | HINDI |
| தினத்தந்தி | THE HINDU | Rajashdhan Pathrika |
| தினமலர் | TIMES OF INDIA | Navabharath Times |
| தினமணி | INDIAN EXPRESS | |
| காலைக்கதிர் | THE ECONOMIC TIMES | |
| தி இந்து | | |
| தினகரன் | | |
| மதுரை மணி | | |
| விளையாட்டு முரசு | | |
Services
Library provided the following services to its readers.
Online Public Access Catalogue (OPAC)
Circulation Service: (Books issue / return / renewal)
Reference Service.
Book Bank (Special Candidates such as SC/ST)
Selective Dissemination of Information Service (SDI)
Current Awareness Service (CAS)
Institution Repository (Using D Space)
Internet Service
Borrowing Limitations
| | | |
| --- | --- | --- |
| Membership | No. of Books | Borrowing Limitation |
| UG | 2 | 30 Days |
| PG | 3 | 60 Days |
| M.Phil | 5 | 90 Days |
| PH.D | 6 | 150 Days |
| Faculty | 7 | 180 Days |
| Non Teaching | 2 | 30 Days |
Books will be issued only on production of valid user ID card
Books borrowed must be returned on or before the due date
Only one renewal can be done at any one time
Books will have to be physically present for renewals
For late return of books, overdue charges will be collected as per rules in force
Users are requested to collect receipts for fine amount paid by them
Users are requested to verify the physical condition of the book/s before borrowing
Users are required to switch off the lights and fans when not required or while leaving the reading halls
Library Rules and Regulations
Library is the temple of learning, hence complete silence, dignity, and decorum should be maintained inside the library.
Outsiders shall get permission from the principal for using the facilities at the library
Teaching and non teaching staff, many enroll themselves as library member by filling up the library membership form with latest passport size photograph.
Access to the library is provided to the students by using the ID card, without which no student will be allowed to enter the library.
All the users should wear their college ID card with the rope inside the library all the time.
Users have to produce their ID card to the library staff as and when asked for.
Access to the library is providing visitors only after making an entry in the entry register kept at the entrance of the library.
Users must keep their belongings at the "property counter" before entering the library. Library staff will not be responsible for reader's personal books kept in the property counter. Only small pads or loose sheets are allowed inside the library for taking notes.
The users are requested not  to misplace the books from one shelf to another; they shall leave the books on the reference tables after using; the library staff will replace the books in their respective positions. Hence users are requested not to disturb the sequence of arrangement of books in the rack.
Underlining, scribbling, tearing of pages or any other type of mutilation of books, Magazines, journals, etc., mishandling or misuse of computers will lead to severe action and fine.
If any reading Material is taken out of the library without proper entry, serious action will be taken.
The Library Accession List and Issue are managed through web-enabled software-MODERNLIB.
Students can borrow books for a period of 30 days.  The loan period can be extended by another 30 days, provided there is no reservation pending for the book.  Second renewal of the  book is not possible even if the book is not in the reservation list. Students can renew the borrowed books through online.
Only one copy of the same title be issued to each user
Books once issued from the library should not be carried back into the library before discharging the same at the circulation counter
It is the responsibility of every user to return the books or before the due date, which can be known the  Modernlib or due date slip. In case they are not returned within the due date, a late fee of Rs.5.00 first day then next day Rs. 1.00 will be added. Users who repeatedly fail to return books on the due date may be debarred from membership of the library.
User should satisfy them whether the books are in good condition, before they leave the counter.  If any damage is found, the same must be immediately intimated. Otherwise, he/she will be held responsible for any damage. A minimum fine of Rs.50 will be charged for any book damaged due to rains, stains, being torn, loose binding or plastic cover of the books being removed of torn.
In case the book is lost by a borrower, the users should replace the same edition of the resource at his/her own cost within a week. If failed to do so she will be fined two times the cost of the foreign authored books and two times the cost Indian authored books as replacement fee.
Copy  restrictions Whole books and periodicals cannot be copied More than one article cannot by copied from any issue of periodical
Only single copies can be requested, of a few selected pages, for personal, scholarly use
Group discussions or any other activities will not be permitted inside the central library
The system kept in the central library is only for browsing e-journals, digital resources of  VICAS and for searching  books  in the central library
 No dues certificate shall be issued to users only after submission of books/documents/fine only.
E-Services
Digital Library
"Revolutions are not made they come."
A modern digital library network with high speed internet access is also housed in the premises. Reprographic facilities with printer & CD writer are provided for. The prime objective of this Digital Library to act as a subject gateway providing access to the information resources of various libraries and information services both internal and external, all in one place, enabling users to search, browse and download any required data needed quickly and easily.
The Digital Knowledge Centre accesses the following:
E-Journals
E-Learning Resources
E-Books
E-Resources
Available E-Journals in N-List
Available E-Books in N-LIST
The Following E-Resources are available in DELNET
DSPACE
Institutional Repository
Institutional Repositories (IRs) are a development in managing digital objects for effective utilization. The majority of research scholars do not provide free access to their research output to their colleague's .IRs provide scholars with a common platform so that everyone in the institution can contribute scholarly material to promote cross-campus interdisciplinary research. An institutional repository is an online archive for collecting, preserving, and disseminating digital copies.
VICAS Library established the Institutional Repository (IR) with the help of DSpace -open source Digital Library software. E-question bank, E-journals, E-books, Newspaper Cutting, E- Dissertation & theses.
VICAS Library using the DSpace software for managing digital contents. It offers the following features:-
DSpace is a platform that allows we can capture items in any format – in text, video, audio, and data. It distributes over the web. It indexes our work, so users can search and retrieve our digital resources.
It preserves our digital work over the long term.
DSpace provides a way to manage our research materials and publications in a professionally maintained repository to give them greater visibility and accessibility over time.
DSpace is typically used as an institutional repository.
Facilitate the capture and ingest of materials, including metadata about the materials
Facilitate easy access to the materials, both by listing and searching
Facilitate the long term preservation of the materials.
SAGE Management Online Journals
Other Useful Links
E-Theses
Faculty
Library Staff Members
Librarian: Mr.P.Boopathi,. MBA.,MLISc, M.Phil,PGDLAN .,SET.
Contact: 99427 19117
| | | |
| --- | --- | --- |
| Name | Qualfication | Designation |
| Mr.R. SRIDHAR | M.A. M.LISc | ASSISTANT LIBRARIAN |
| Miss.P. JAYANTHI | B.Sc.,(CS) M.L.I.S. | ASSISTANT LIBRARIAN |
| Miss. M. KALAIMANI | B.COM., M.L.I.S. | ASSISTANT LIBRARIAN |
| Mr.S. ALAGARSAMY | B.COM., M.L.I.S. | ASSISTANT LIBRARIAN |
| Mrs.K. RASI | B.B.A., M.L.I.S., | ASSISTANT LIBRARIAN |
| Mrs.M. SHALINI | B.B.A., M.L.I.S., | ASSISTANT LIBRARIAN |
| Mr.R. RAJESH KUMAR | B.B.A, M.L.I.S. | ASSISTANT LIBRARIAN |
| Mr.D. MANIVEL | B.SC (PHY),M.L.I.S. | ASSISTANT LIBRARIAN |
| Mr.S. SETHUMATHAVAN | B.SC., M.L.I.S. | LIBRARY ASSISTANT |
| Mr.B. MOHANRAJ | B.E (CS) | SYSTEM ENGINEER |
| Mrs.A. AMUTHA | B.A., C.L.I.S. | LIBRARY ASSISTANT |
| Miss.V. NITHYA | MCA | LIBRARY ASSISTANT |
| Miss.V. SUGANYA | B.COM (CA), MBA | LIBRARY ASSISTANT |
| Mrs.S. JANSY VICTORIA RANI | B.LIT | LIBRARY ASSISTANT |
Library Advisory Committee
As per the direction of the Chairman, the college Governing Council, the Library Advisory Committee Members should be changed once every year.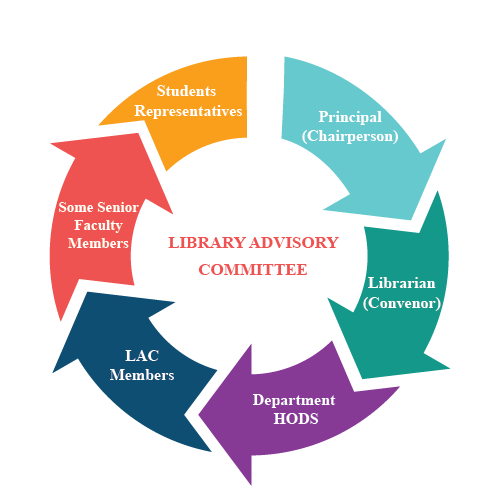 Principal - Dr.B.T. SURESH KUMAR M.Sc, M.Phil, Ph.D
Librarian - Mr. P. BOOPATHI, MBA., MLIS., M.Phil., PGDLAN., SET.
Department Hod's
Mrs. S. RAMADEVI - MATHEMATICS
Dr. M. PRABAKARAN - BOTANY
Dr. B. T. SURESH JEYAKUMAR - CHEMISTRY
Dr. A. MALARVIZHI - MICROBIOLOGY
Dr. S. DHANALAKSHMI - COMPUTER SCIENCE
LAC Members & Senior Faculty Members
Mr. R. BATHRI DEVANATH - Asst. Professor (English)
Mr. M. NAGOOR MEERAN - Asst. Professor (Chemistry)
Mrs. K. E. POORNI - Asst. Professor (Biotechnology)
Dr. K. RAMESH - Asst. Professor (Commerce)
Mr. M. JEGANRAJ - Asst. Professor (Management Studies)
2015-2016 (JULY)
Library Advisory Committee (LAC)
The first Library Advisory Committee of the year was conducted by our Librarian on 08.07.2015 at 3.00 p.m. in our Library.
As per the direction of Chairman Sir, the college Governing Council, the Following Library Advisory Committee, is constituted in the year 2014-15.
The fulfillment of last meeting resolution
As per the resolution of last meeting, we have conducted the "Mega Book Exhibition" dated on 27.01.2015 to 30.01.2015.  Many publishing houses & Vendors were participating in this programme.  They had displayed a variety of books which continued the wealth of knowledge and experience.  Around 15,000 students were participating over the Vivekanandha Educational Institutions, and they bought various types of books subject, novels, competitive books and social leader books, story and rhyme books for kids etc..
As per the resolution we have purchased some important books from the remaining budget through the book exhibition in order to students and faculty member's proposal.
As per the resolution we have issued additional one library card for UG Computer Science students in order to the fulfillment of respective department students suggestions. 
As per the resolution we got permission for book binding from our chairman sir, and then bounded the all damaged and torn books, back volumes of journals and magazines.
As per the resolution we have conduct  the stock verification process through faculty members and library staff members from 18/04/2015 to 30/04/2015.After the completion of physical verification, we have identified 24 books were missing, the missed books amount added into students common breakage.
The following heads were discussed in the meeting
We have discussed about the 2015-16 academic year book purchase and also we have to set up a separate special committee for the purpose of to prepare the effective and feasible  book proposal list. This committee assured the book list should be included, students and faculty members suggestions and also covered the latest BOS syllabus.
The committee members discussed about one special user education programme for PG I year hostel students. The programme mainly concentrates to increase the reading habits among the student community.
We have discussed about the competition like poetry writing, and drawing for "123rd Librarians Day Celebration" and its titles.
We have discussed about the "ORIENTATION PROGRAMME" for first year UG & PG students of our college.
We have conferred with the "Special User Education cum orientation programme" for research scholars.
The following resolutions have been passed
Resolved to send the book proposal circular to acquire the new books for the current academic year budget.
It is resolved to suggest the "Special User Education Program" for PG I-year Hostel students.
It is resolved to celebrate the Librarian's Day on 12.08.2014 and also arrange one resource person in the field of Library Science for a guest lecture on the day of celebration, connection with this celebration; we have to conduct a special drawing and poetry competition.
Resolved to suggest the orientation program for the first year UG & PG students on September onwards.
It is resolved to organize the "Workshop on E – Resources and Orientation Programme for research scholars on October first week onwards.